Casita on the Green Report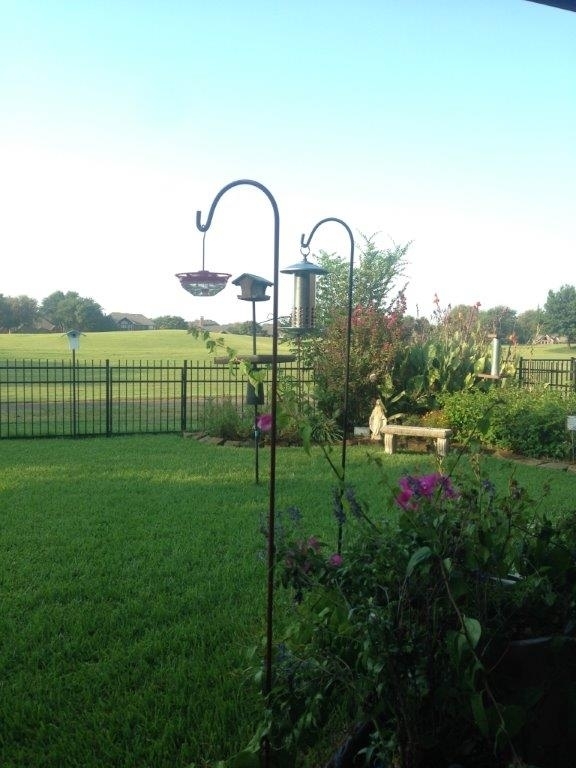 It's Hot! The birds would love some nice cool water. It is a great time to add a birdbath or fountain to your backyard sanctuary. We have plenty of styles in the shop-in all price ranges. Treat yourself and your birds to the pleasures of a water feature today! If you already have a bird bath, come on in to add a water wiggler to keep the water moving so …….no mosquito eggs! Also, the movement will attract the birds! Win-Win!
I have been enjoying the mornings with my birds. It's cool and we have had nice breezes this last week. Here are the birds I've been seeing in my backyard:
Cardinals, White-winged, Eurasian Collared and Mourning Doves, Robins (at my birdbath), Bluejays, Grackles, House Sparrows, House Finches, Purple Finches, Carolina Wrens (at my mealworms) Mockingbirds, (at my bark butter), Red-bellied Woodpeckers, brown thrashers (eating from the ground), and I have seen one hummingbird. I am still keeping my feeders clean and full expecting more hummers to come in mid-July.
If you can, add some nectar plants to attract Bees, Butterflies and Hummers to your backyard. This month's program "Gardening for Butterflies, Birds and Bees" will be a great help to attract more to our feeders. It will be on July 21, Saturday, at 9am. See shop website or in shop for details. We will have coffee, donuts, door prizes and coupons too! It will be cool in the shop at 9am, so come spend a morning with us!
It's always a beautiful day to feed the birds!!
~Birdie