Casita On The Green Report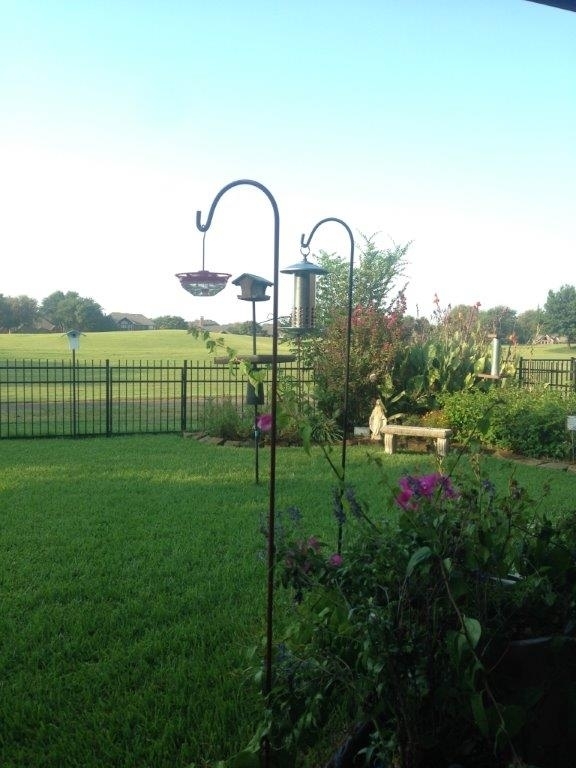 March has almost blown away! I can't believe it is almost over. I hope you have had a wonderful month with your backyard filled with your favorite birds! This has been such a busy month for me that I haven't gotten to enjoy my backyard much, but these have been some of the birds I've had at my feeders: Cardinals, Goldfinch, House Finch, Yellow Rumped Warblers, Juncos, Cowbirds, Starlings, Yellow Bellied Woodpeckers, Hairy Woodpeckers, Downy Woodpeckers, Mourning, White Winged & Asian collared Doves, Pine siskins and Mockingbirds (they love my barkbutter).
The Ruby Throated Hummingbirds and the Black Chinned Hummingbirds have been spotted in our area at feeders, so get those feeders clean and out with some fresh nectar! We have lots of fantastic FEEDERS here in the shop along with NECTAR, NECTAR DEFENDER (1 tbsp TO 32 oz of nectar allow you to leave your nectar out about 2 weeks without changing it......and no bacteria forms!), ANT MOATS AND ALL THINGS HUMMERS!
THURSDAY APRIL 12
BIRDIE'S BIRTHDAY BLOWOUT
It's my birthday and I'm giving a special gift to the first 50 people (one per family please) who stop in to help us celebrate with cake & surprises!
GOLDFINCH UPDATE:
Have you noticed goldfinches seemed to have disappeared from your feeders? DON'T TAKE DOWN THOSE THISTLE/ NYJER FEEDERS, just yet! American Goldfinches typically leave feeders for about 4-6 weeks each spring. Their departure from feeders usually corresponds to the emergence of elm buds on Elm Trees. Whatever is in the elm buds is critical for changing from their winter plumage to their breeding plumage, a necessary change before they can begin their migration north. The energy requirements for plumage change & migration are too great for both to happen at the same time. Once the elm buds have grown into leaves and can no longer be eaten by goldfinches they will return to feeders for about 4 weeks, finally leaving on migration about Mother's Day. (Thanks David! I love our WBU DFW Metroplex think tank!!)