March 2019
HAPPY FIRST DAY OF SPRING!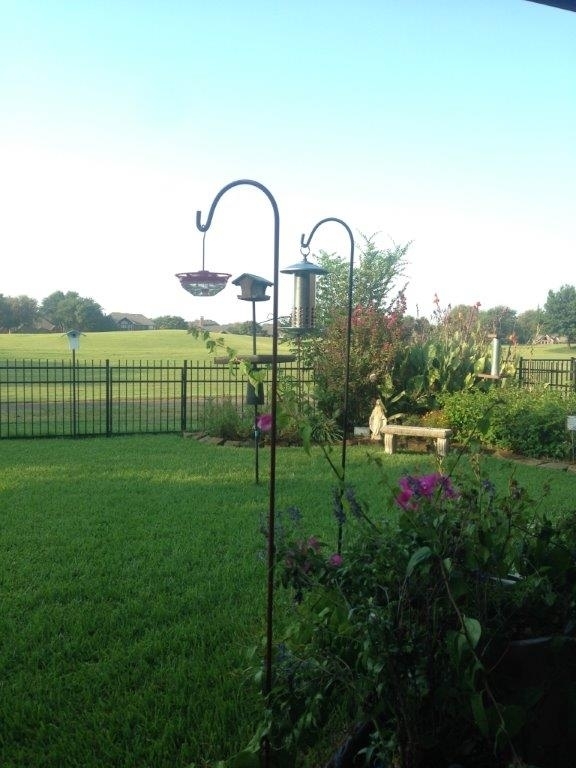 This has been a fun March and I have loved watching the birds at my feeders. The crazy weather has been a challenge for our feathered friends, but I am so glad so many of you have helped them survive the late spring cold front we had this month. The new NESTING BLEND has been a big success and I am getting a lot of photos from our peeps of the birds already nesting in your yards and your boxes. It is an amazing adventure to watch eggs hatch and parents feed the nestlings. So much promise in this time of the year for sure.
These are the birds I have seen at my feeders this month: Goldfinch, House Finch, Cardinals, Chickadees, Juncos, White throated Sparrows, chipping sparrows, House sparrows (not many thank heavens), Bluebirds, Carolina Wrens, Starlings, Mourning Doves, White Winged Doves, Red winged Blackbirds, Robins (at my nesting blend cylinder), Orange crowned warblers (at my bark butter suet).
Goldfinch: Have you noticed goldfinches seemed to have disappeared from your feeders? Don't take down those thistle/nyjer feeders, just yet! American Goldfinches typically leave feeders for about 4-6 weeks each spring. Their departure from feeders usually corresponds to the emergence of elm buds on Elm Trees. Whatever is in the elm buds is critical for changing from their winter plumage to their breeding plumage, a necessary change before they can begin their migration north. The energy requirements for plumage change & migration are too great for both to happen at the same time. Once the elm buds have grown into leaves and can no longer be eaten by goldfinches, they will return to feeders for about 4 weeks, finally leaving on migration about Mother's Day.
HUMMINGBIRDS: They are here!! Come in and update your feeders, get new nectar, grab some new brushes and get ready for another season with our favorite little birds.I have added a number of new items to our inventory to attract these special birds!The new RED weather dome will be a sure-fire attraction for those hummers. I now have clear bottled nectar, ready to use, for when you are short on time and your hummers are buzzing your windows because their feeder is empty!
We are planning such fun in the shop this year for April and May. Come to the back of the shop and see our new community Corner! And, as always, keep sending in your photos. We will post them on our website and Facebook and if you bring in photos, we will post them in the community corner as well!!
I hope you enjoy the beautiful weather and the new birds coming to the feeders!
~Birdie