CASITA ON THE GREEN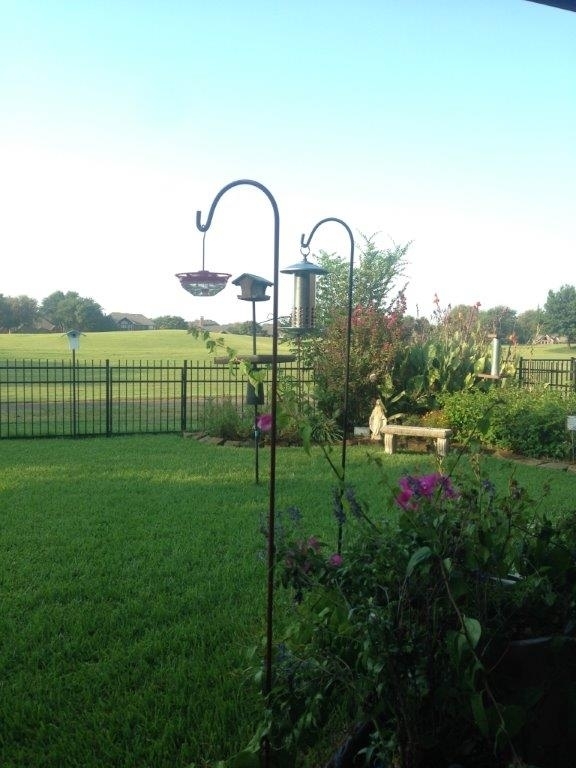 June 2019
What a beautiful month we have had! I still can't believe we haven't had a scorcher day yet. Our backyard birds are laying eggs and raising their babies and that makes it an exciting time to be feeding the birds! I have had baby Cardinals, Blue Jays, Mockingbirds, Bluebirds, and a few others in my yard this month!
I have also had grackles, starlings and other blackbirds at my feeders. Some of these birds are beautiful, but if you are having issues with flocks, this is a good time to look into caging some of your feeders. You can also serve safflower seed as most black birds don't like this type of seed and Cardinals, House Finch and Chickadees love this seed.
Keep offering food high in protein and fat, such as the nesting blend, mealworms, bark butter, sunflower seeds and peanuts. Both parents and babies are in desperate need of easy to get high calorie food as they sit on nest, learn to fly and other high intensity activities.
We are still excited about our "TEAM OF THE YEAR" Award and will be receiving it at our national convention this week. Thanks so everyone who supported us with your customer surveys, comments on our website and facebook! We are humbled and excited to be recognized for our love of our customers!
We are introducing a new feature on our website next month. We will highlight a team member a month so that you can get to know everyone here at our shop! We will also be including more hobby related information on facebook to keep you up to date with the hobby and allow you to be even more seasonally savvy!
Thanks so much for finding the JOY OF BIRD FEEDING! COME ON IN AND SHARE YOUR STORIES AND PHOTOS....BECAUSE......IT'S ALWAYS A BEAUTIFUL DAY TO FEED THE BIRDS!
~BIRDIE