2021 Calendar of Events Upcoming In-Store Events
_______________________________________________________________________________________________
Native plants to Save the Song Birds & Wildlife
with Jarratt Calvert from Shades of Green.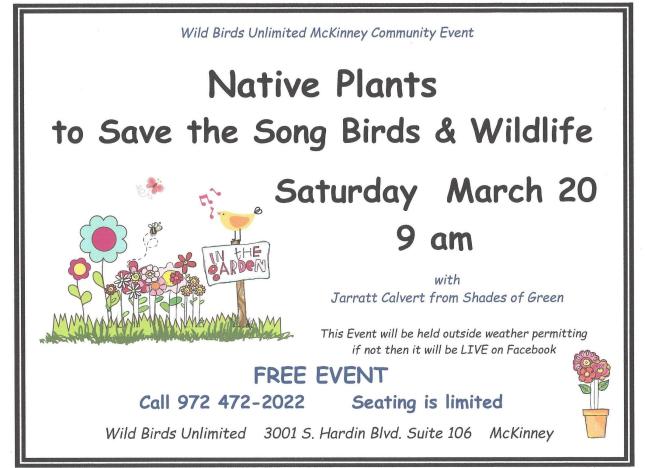 When: 9AM March 20, 2021
Where: Wild Birds Unlimited 3001 S. Hardin Blvd. Suite 106, McKinney, TX
Join us as we welcome Jarratt Calvert, Operations Manager for Shades of Green Nursery and Landscape in Frisco. Jarratt is passionate about educating North Texas sustainable landscaping. He holds a TCNP Certification with years of experience. Yes, it's that time of year that we are looking for help with our landscaping. Jarratt will educate with us on the benefits of sustainable landscaping through native and adapted perennials, attracting Native Wildlife to our gardens, and planting for pollinators. Let's do our part to Save the Song Birds & Wildlife. To insure the health and safety of both our customers and our staff, we will practice Social Distancing and will follow the guidelines at the time of this event.
Seating is limited for this FREE event! Call and RSVP today 972-472-2022!