Wine, Cheese & Seed
October 18, 2018
Location: WBU McKinney MAP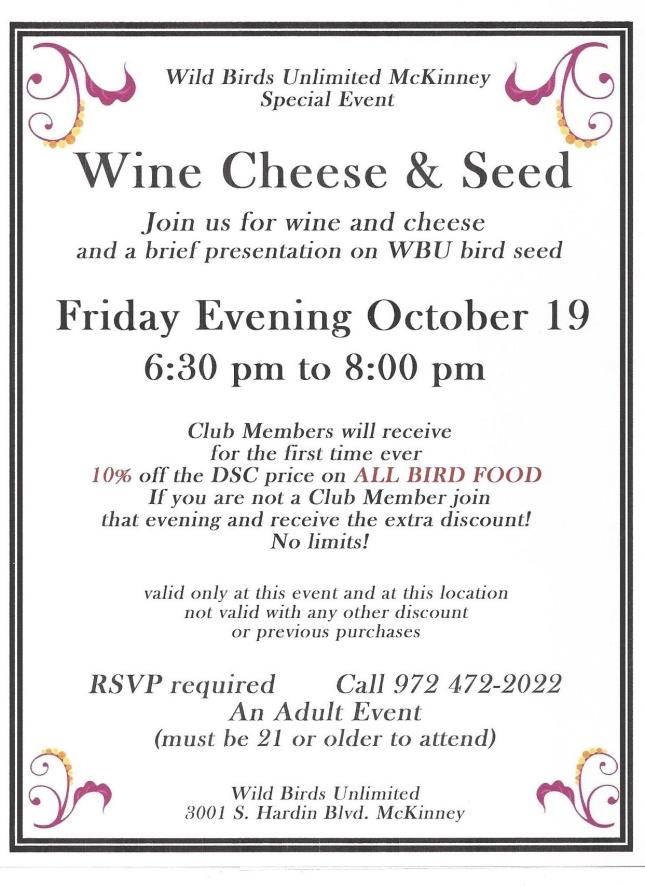 Batty for bats? So are we!
4:00 PM, October 27, 2018
Location: WBU McKinney MAP
Wild Birds Unlimited McKinney presents:
Let's talk BATS! with Kate Rugroden, Director of Special Projects for Bat World Sanctuary.
Please join us as Kate introduces us to the fascinating world of BATS! With over 25 years' experience in presenting live animal programs plus an additional 9 years as a rehabilitator, Kate knows her BATS! She will include a bat or two which she is certainly working with during her presentation. She will truly open our eyes to the bat world. This will be a lively presentation that you will not want to miss!
Kate has presented educational programs throughout the DFW Metroplex. She is a permitted Texas Parks & Wildlife Department Rehabilitator in bats, opossums, and raccoons. Kate is a member of many local and national wildlife groups. Kate co-authored the book The Essential Bat with Amanda Lollar, founder of Bat World Sanctuary.
You don't want to miss out!! Call to reserve your seat today!
RSVP to 972-472-2022
Seating is limited for this FREE event!
Plus!!!! You will receive a Special Event Coupon to be used that day only.