To take advantage of our "Monthly WOW!" come into the shop and tell us that you saw it on our website!
Buy a Squirrel Proof Feeder, get a 5# bag of No Mess No Millet for FREE!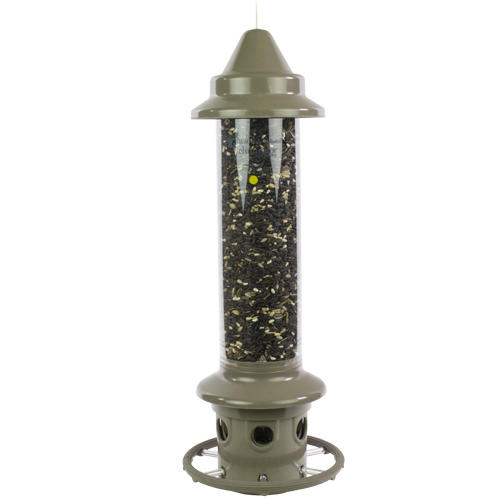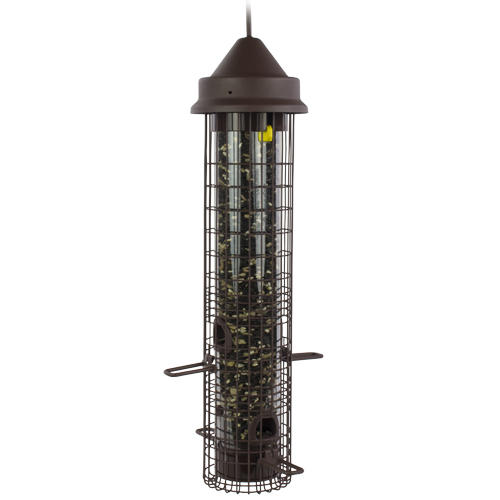 Eliminator (left): Protect your bird seed bounty from squirrels with our Eliminator™ bird feeder. When a squirrel touches the perch ring, its weight closes the seed ports, foiling its seed-stealing plot. The Eliminator's unique technology allows you to set the sensitivity level, so you can also exclude large birds such as pigeons or doves. It's easy to hang, holds three and a half quarts of seed and is backed with a limited lifetime guarantee.This feeder also features a special seed ventilation system that helps keep seed fresher and key parts are made from a special chew-proof material to help keep squirrels at bay. The Eliminator can be disassembled and assembled with no tools, and all of its parts are top shelf dishwasher safe.
Fundamentals (right): So long squirrels! Our Fundamentals Squirrel-Proof Bird Feeder is weight-sensitive, so when a squirrel gets on the feeder the feeding ports close, denying access to the seed. Birds can use the four perches, or they can cling to the metal shroud to feed. The patented Seed Tube Ventilation System™ that keeps seed dry and fresh is also included. It's easy to clean and has a two-year limited warranty including protection against squirrel damage.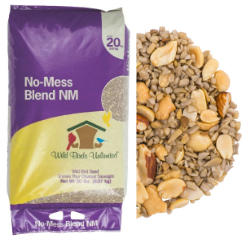 WBU No-Mess Blend NM CD: No shells. No mess. 100% edible. This blend contains more peanuts and has added calcium to help bone development and egg production. Being millet free ensures it flows easily through your feeders and discourages unwanted ground birds as very little makes it to the ground from the feeder. WBU No-Mess Blends are great near flower beds, patios and decks. Our unique No-Mess Blend bird seed features seeds that have had their shells removed so only the meat of the seed is left. No hulls on the seeds makes for tidier feeding, since there's no debris on the ground to clean up. Pound for pound, our No-Mess Blend bird seed offers the best value because you do not pay for uneaten seed waste. The birds eat everything. Buying one bag of our No-Mess Blend is roughly the equivalent of buying almost two bags of a seed blend with shells.
Ingredients: Sunflower chips, peanuts, and calcium