Bird Food Storage and Accessories
Many types of bird food need to be stored in dry and cool area to maintain freshness and avoid spoiling. There are a wide variety of containers that make storing a large quantity of seed simple. Our metal bird seed containers are even designed to keep pests such a squirrels and other rodents out. In addition to bird food storage we also carry a wide variety of products designed to keep the food in your feeders fresh and make it easier to hang and fill your bird feeders.
5 Gallon Galvonized Steel Can with Lid
These cans are carefully manufactured in the USA from prime, heavy gauge galvanized steel, and feature deep body corrugations for superior strength and durability. The high strength handle can be raised to lock lid. Keeps seed dry and secure. Works great for up to 20 pounds of seed.
Red Metal Seed Can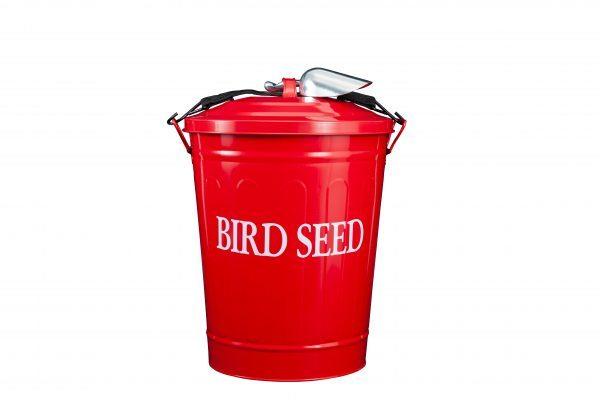 Attractive, painted Bird Seed Containers made of galvanized zinc metal make the storage process an easy and smart one. These containers have endured a process of applying a powdered coated, protective zinc coating to prevent rusting which make them long lasting and can be left outdoors.
24.5 L (Will hold a 20 lb. bag of sunflower seed). Each can has its own metal scoop and a bungee for additional security. Large – 19 inch Height, 12 inch Diameter.
WBU Seed Scoop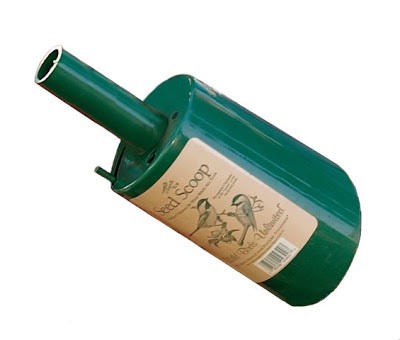 It features a wide mouth for scooping and a narrow funneled end for pouring. The funnel doubles as a handle, which makes the transition from scooping to pouring quick and easy.
Capacity: 3 cups
WBU Feeder Hanging Pole

Hanging and refilling your bird feeders could not be easier with our WBU Feeder Hanging Pole. This pole allows for you to lift your feeders on or off a hook or pole system without needing a ladder. It's ideal for hanging tube feeders, suet feeders and a wide assortment of other feeders.
Feeder Fresh™
Feeder Fresh™ is a bird-safe moisture trap and seed preservative for all seed and feeder types. It fights rain, condensation, leaks and keeps your seed fresh. Feeder Fresh™ is safe for all birds, inert and chemically similar to sand grit (which birds regularly consume in the wild). It is designed to promote the health of wild birds by keeping the feeders they eat from dry and reducing the incidence of harmful mold toxins. Feeder Fresh™ works with any type of seed; but many people use Feeder Fresh™ with their Nyjer® seed regularly as Nyjer® can easily spoil with moisture.
Hummingbird Feeder Fresh Nectar Defender
After being tested by the bird experts and naturalists at Wild Birds Unlimited we are proud to offer Hummingbird Feeder Fresh. Hummingbird Feeder Fresh protects the birds and prevents nectar spoilage naturally. It contains a mineral micronutrient, copper, that keep nectar fresh much longer. This same mineral micronutrient is part of a hummingbird's natural diet of nectar and insects. With no artificial additives, colours or preservatives, this all-natural, bird-safe product also helps prevent cloudy nectar, which can put off your backyard hummers. Feeder Fresh Nectar Defender protects your nectar for weeks, and hummingbirds will enjoy fresh nectar every time they visit your feeder.
Nectar Fortress
Ants can be a real pain in the nectar. They love sweet foods like jelly and nectar and can drown or get stuck in these foods causing it to spoil. While ant moats hanging above feeders work well not every feeder can accommodate one. Nectar Fortress is a natural gel with cinnamon, a smell that ants hate! Simply draw a line of this natural gel across any paths the ants might use to get nectar and they won't go any further. Use on poles or hooks to create a barrier without causing harm. This gel is non-toxic and safe for use around children, birds and pets. Best of all its long lasting. One line of Nectar Fortress lasts the whole birding season.